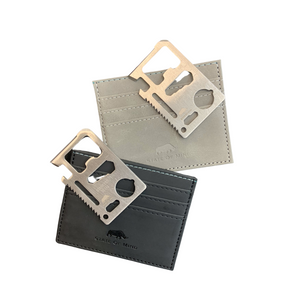 Wallet and Tool Key Bundle
Receive two wallets and two tool keys for $40. Keep one for yourself, give the other to a friend as a gift.
Our vegan leather wallets feature a classic design that is one sided, compact and convenient.
Our survival tool fits it in your wallet or pocket, packed with 11 in 1 multifunctional tools to assist with your needs ranging from every day tasks to wilderness emergencies. It's all housed in a sleek, compact sleeve so that you are ready for any situation.